Portable Air Purifier for Car and Home
Technology
Portable Air Cleaner with HEPA Filter and Carbon Filter

The Roomaid will clean the air in a small room or office, and when configured with the Autokit, will also clean the air when you drive. Its small size and weight make it a great traveling companion to take along in your car or recreation vehicle to purify the air of noxious highway particulates, odors and chemicals. This portable air purifier is easy to take along when you visit friends and family or stay in hotels.

The Roomaid is ideal for cars and other motor vehicles, boats, small bedrooms, offices and other areas where space may be limited.
Three-Stage Filtration
Stage 1:Prefilter
Removes large dust particles.

Stage 2: HEPA Filter
99.97% efficient @ 0.3 microns. Removes dust, pollen, bacteria, animal dander, mold spores and more.

Stage 3: Carbon Filter There are two types of carbon filters available. The standard version uses a blanket-type carbon filter for general odors such as smoke and pet accidents. The VOC filter removes hazardous VOCs (Volatile Organic Compounds) that may off-gas from things made with chemicals such as cleaners, paints, carpets, and especially pressed wood furniture.



Choice of Carbon for Removal of Odors and Chemicals
In addition to the large HEPA filter that capture particles, the Roomaid also comes with a carbon filter to capture odors and chemicals. We have created two versions of the Roomaid Car and Home Package in order to offer choices of carbon filtration.

Carbon Filtration in the
Car and Home Package
The standard Car and Home Package includes a soft, blanket-type carbon filter. It removes a moderate amount of offending fumes, but is not recommended where there is heavy concentration of chemical contamination.


Carbon Filtration in the
Car and Home VOC Package
The other carbon option is the V.O.C. canister. This configuration contains a greater amount of carbon and has much better capacity to remove volatile organic compounds (VOC's) found in automobile pollution as well as paints, cleaning chemicals, or off-gassing of new furniture that might be present in a hotel or motel room, for example.


We recommend the Car and Home VOC Package in most cases since it is more effective in removing harmful chemicals both on the road and indoors.




Colors Available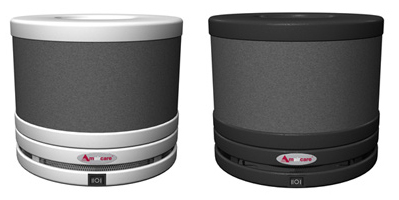 The Roomaid comes in two colors: White and Slate.


Features
Low Electrical Costs
It would take 13 1/3 Roomaids to use the same amount of electricity as one regular 60 Watt light bulb..


Up to 5 Year Filter Life
HEPA filter lasts up to 5 years and needs no maintenance.


Reusable Prefilter
Washable foam prefilter can be used over and over.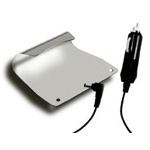 Optional AutoKit
AutoKit accessories enable the Roomaid to be used in your car, giving you HEPA filtration on the road. The seat belt adapter keeps the air filter securely fastened to the car. The cigarette lighter adapter provides power to the unit.




Technical Specifications
DIMENSIONS
8.5" D 7.5"H
WEIGHT
5 lbs.
AIR FLOW
20 and 40 CFM
POWER CONSUMPTION
4.5 Watts
HEPA SURFACE AREA
19 sq.ft.
CLASSIFICATION
Portable HEPA 100% Sealed Air Cleaning Device
U.L. and C.S.A. approved
MATERIALS
24 gauge cold rolled steel
FINISH
Powder coated baked enamel
COLORS
White and Slate
INTAKE (Upper Section)
Three-stage filter assembly
OUTFLOW (Lower Section)
330 degree outflow
MOTOR/FAN
Designed for continuous operation
Run tested for 35,000 hours
Service: 12 Volts D.C.
CONTROL
3-position, 2-speed switch
FILTER LIFE - V.O.C. filter:
6-12 months/td>
FILTER LIFE - HEPA filter
2-5 years
INCLUDED ACCESSORIES
120 Volt A.C. to 12 Volt D.C. adaptor with 7 foot cord
Spare washable prefilter
Click here to download the product sheet for the Roomaid Car Air Purifier




If you have questions or prefer to order by phone, please call our toll-free number
(888)246-8776.
Contact Information