Permanent Electrostatic Filters
Overview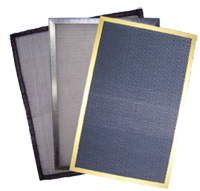 Permanent electrostatic filters are washable replacements for the disposable type of furnace filters. No special electrical hookup or retrofitting of your existing system is necessary. Simply slide one of these filters into your furnace the same way you slide in the disposable ones -- but instead of buying a new filter every one to three months, just hose off the permanent filter and use it again.

These filters are so well made that that are guaranteed for life!
What are Permanent Electrostatic Filters?
These permanent filters easily replace the disposable filters that are used in central air systems, furnaces, and air conditioners.

Electrostatic air filters clean the air by using safe, natural static electricity. The air that flows through a maze of static-prone fibers generates a charge which causes airborne particles to be attracted to the fibers of the filtration material where they will be held until released by washing.

Air-Care permanent electrostatic filters have a lifetime warranty.


Benefits of Permanent Filters
Permanent filters save time, money, and environmental resources because these washable filters simply need to be hosed down to clean and reuse. They are as easy to replace as the disposable type without the expense and inconvenience of driving to the store for more filters.


Added Convenience of never running out of filters
Save money by never needing to purchase another filter
Breathe cleaner, healthier air
Environmental responsible
Removes pollen, dust and airborne pollutants with a peak arrestance of 94%
Less house cleaning
Reasonably priced
No harmful ozone emissions
High dust and particle holding capacity
Standard and custom sizes available
Lifetime warranty
Anti-Microbial materials inhibit the growth of bacteria and mold
UV Resistent
Filter Choices
Air-Care Electrostatic Filters are available in a variety of configurations to meet different needs. There are three kinds of frames, two efficiency ratings, and are available in standard and custom sizes.

Filter Configuratins

Frame Type
Depth
Arrestance
Sizes
Gold
1"
94%
Standard and Custom
Silver
1"
88%
Standard and Custom
Silver
1/2"
88%
Custom
Silver
2"
94%
Custom
Silver
Over 2"
94%
Custom
Flex
1/4"
88%
Standard and Custom
Flex
1/4"
94%
Standard and Custom
Standard Filter Sizes
There are 30 standard sizes for one-inch silver or gold frame filters as well as the flexible filters. If you need a less-common size filter, custom sizes are available for just a few dollars more.


ElectraGold: All are 1" deep
ElectraSilver: Available between 1/2" and 6-5/8" depth.
ElectraFlex: All are 1/4" deep.
Standard Sizes Available for 1" Gold, 1" Silver and Flex Filters

10 X 10
12 X 24
14 X 25
16 X 30
20 X 20
10 X 20
12 X 25
14 X 30
18 X 18
20 X 24
10 X 24
12 X 30
16 X 16
18 X 20
20 X 25
10 X 30
14 X 14
16 X 20
18 X 24
20 X 30
12 X 12
14 X 20
16 X 24
18 X 25
12 X 20
14 X 24
16 X 25
18 X 30
Important Note: All standard size filters are undercut by 3/8" in each side. Custom sizes are made to exact measurements.
Filter Prices
Filter Prices

Frame Type
Depth
Standard Size
Custom Size
Gold
1"
$53.95
$59.95
Silver
1"
$48.95
$54.95
Silver
1/2"
—
$61.95
Silver
2"
—
$69.95
Silver
Over 2"
—
$119.95
Flex
1/4"
$53.95
$59.95
Frame sizes over 800 square inches are $6.00 more.
Frame Types
| | |
| --- | --- |
| ElectraGold - 1" | ElectraFlex - 1/4" |
| The ElectraGold filter has a premium quality extruded aluminum, gold anodized frame with a durable and attractive finish. | ElectraFlex frames are available for applications where a rigid frame cannot be used because the filter must be twisted or bent in order to be installed. |
| ElectraSilver - 1/2" to 2-7/8" | ElectraSilver - 3" to 6-7/8" |
| The ElectraSilver filter has a single piece, roll-formed steel frame with a durable and attractive finish. | Thicker ElectraSilver frames are an economical replacement for Honeywell, Trion, Lennox,Aprilaire, SpaceGard, Goodman, Bryant/Carrier, Purolater, and other AC furnaces or air conditioners. |
Arrestance Options
The arrestance of a filter reflects its ability to remove small airborne particles. All Air-Care filters come in one of two types of arrestance -- either 94% or 88%. The 94% arrestance filter provides higher filtering capacity by trapping up to 94% of particles in the air.

The 88% arrestance filters provide slightly less filtering capacity,but is less restrictive, allowing greater airflow through the filter. The 88% arrestance filters may be preferred when used in older or weaker air handling systems since air can move more freely through them. The difference in the amount of particles captures between 94% and 88% arrestence is minimal.


UV Resistance
Air-Care filters with 94% arrestance are manufactured to be resistent to ultraviolet radiation. This is an important feature If you have germicial UV bulbs in your heating and cooling system or your equipment is exposed to sunlight sicne UV rays can destroy filtration materials.


Anti-Microbial
Air-Care filters with 94% arrestance have an anti-microbial layer of self-charging polyproplyene electrostatic fibers. Pathogens that are trapped in the filter are easily hosed away with routine cleaning.




Have Questions or Need Advice?
Please call our toll-free number (888)246-8776 to talk to a friendly and knowledgeable customer service representative. We have extended our hours to 8:00 p.m. Pacific time (that's 11:00 p.m. on the East Coast) and are open on weekends.
Click here for our secure order form or Or call us at
(888)246-8776 to place an order by phone.


Contact Information