with HEPASilent
tm

Technology

Blueair 600 Series
Blueair 600 Series
Designed for large rooms with dimensions approximately 35 feet by 20 feet or nearly 700 square feet, the 600 series units are ideal for large family area rooms, large master bedrooms, basements, office, or any large space.

Blueair combines the best in electrostatic and mechanical filtration technology, zero ozone emission, low energy consumption, protective steel housing and Blueair unique multi-directional SurroundAirtm air flow system which gently diffuses air through an area six times greater than the average air purifier.

Choose from 4-speed manual units (Blueair 603) or electronic units that automatically set the air speed by measuring the conditions in your environment (Blueair 650E)

The Blueair 603 and 650E are configured with the standard particle filter. If smoke or other odors are an issue, the GO Smokestop filter can be purchased separately and used with Blueair 600 Series units.


Click here for help in determining the best
Blueair unit for your specific situation.

Or call us at (888)246-8776 to help with your decision.


Blueair 603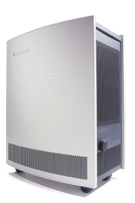 The Blueair 603 is ideal for a large living area such as family room, master bedroom suite, any large living area. Included with 603 models, this magnetic timer reminds you to change your filters every 6 months as recommended for optimal performance of your Blueair air purifier. The filter change indicator is a timer that counts down from 188 days (6 months). The timer is independent of actual run time. When 0 days remain, change the filters and reset the timer for another 188 days (6 months).

This is a completely manual unit. The user simply selects the optimal operating speed using the control knob on the unit itself.


Blueair 650E

The Blueair 650E is "Best in Test" as determined by ETL's testing for Clean Air Delivery Rate (CADR). It has been certified by the Association of Home Appliance Manufacturers (AHAM) with the highest CADR rating possible in test.

The Blueair 650E is ideal for a large living area such as family room, master bedroom suite, any large living area. The e-series continuously monitors and purifies your air using integrated electronic sensors and automatic fan control. Simply set the unit on auto mode and let it regulate the speed according to the actual amount of particles present in the air. The faces on the digital display indicate the status of your indoor quality.


Click here to download Blueair 605E Fact Sheet.


Blueair 600 Series Specifications
Specification for:
Blueair 603
Blueair 650E
Room Capacity
640
698
Air Changes per hour (ACH)
5 (650 sq.ft. room)
5 (698 sq.ft. room)
Airflow
90-455 cfm
90-490 cfm
Size (HxWxD)
26 x 20 x 13 in.
26 x 20 x 13 in.
Product weight
35 lbs
35 lbs
Energy consumption (watts)
35 - 120
35 - 120
Noise level dB(A)
35-71
32-66
Electronic sensors with remote
No
Yes
Filter replacement indicator
Yes
Yes
On/off timer
No
Yes
Speed control options
4
Auto
Casters
Yes
Yes
Air outlet
SurroundAir

tm

Top and Sides
SurroundAir

tm

Top and Sides
Air inlet
Bottom and Sides
Bottom and Sides
Blueair 600 Series Pricing
| | |
| --- | --- |
| Model | Pricing |
| Blueair 603 with Particle Filter | $769 |
| Blueair 603 with Particle Filter | $849 |
Contact Information