with HEPASilent
tm

Technology

How to Choose
Differences in Blueair Models
All of the Blueair air purifiers we carry combine electrostatic and mechanical filtration technology. Blueair's patented HEPASilenttm technology facilitates the delivery of more clean air at a faster rate with less noise and lower power consumption. There are, however, other differences in the models. These differences involve the amount of space to be cleaned, manual or electronic controls, and whether to there are gaseous contaminants to be removed.
Room Capacity
Odor and Chemical Control
How to Choose
Selecting the best model for your needs is a matter of simply deciding how large of an area you wish to clean, whether you prefer your air purifier to be manually or automatically controlled, and whether you need to remove odors and chemicals in addition to particles. The information below should help you narrow down your choices, but please free free to call us at (888)246-8776 to help with your decision.


Step 1: Determine Room Size
A critical element in selecting an air purifier is ACH (the number of air exchanges per hour) provided by a particular unit. The number of air exchanges per hour is basically a function of the amount of air that is moved by the fan; the stronger the fan, the greater the amount of air is drawn in and cleaned. Blueair determines the room capacity of their models based on the ability to provide five air exchanges per hour in a specific area.

Blueair models cover areas from 300 sq ft to about 700 sq ft, assuming 8-foot ceilings. Here is a summary of room capacity by Blueair Series:


Series
Models
Room Size
Suggested Use
Blueair 403
Blueair 403
365 sq ft
The Blueair 400 Series provides exceptional air purification in rooms as large as 365 square feet, perfect for mid-sized bedrooms or office.
Blueair 503
Blueair 503
580 sq ft
Designed for large rooms up 580 sq ft, the Blueair 503 provides an exceptional air exchange rate and better indoor air quality. The Blueair 503 can be easily moved around your living space thanks to convenient caster wheels.
Blueair 603
Blueair 603
640-698 sq ft
Designed for large rooms with dimensions approximately 35 feet by 20 feet or nearly 700 square feet, the 600 series units are ideal for large family area rooms, large master bedrooms, basements, office, or any large space desiring clean, healthy air.
ECO10
Blueair Eco 10
300 sq ft
Designed for large rooms up to 300 square feet, the defining feature of the ECO 10 is energy efficiency. Operating on only 7 watts of power on low speed and 10 watts on high speed.
Step 2: Choose Particle Filter or Go SmokeStop Filter
Particle Filter
The Particle Filter comes standard with Blueair air purifiers and is the ideal choice for allergy sufferers and other health-conscious individuals who need high-efficiency particle removal. Patented HEPASilent filter technology generally provides higher filtration performance than other air purifiers, trapping up to six times more dirt. Fine polypropylene fibers effectively capture 99.97% of airborne particles. The Blueair 3-stage progressive filter effectively removes every type of particulate air pollutant,, including allergens, pollen, mold spores, dust, pet dander, bacteria, and viruses.

Click here for more information on the technology.


GO SmokeStop Filter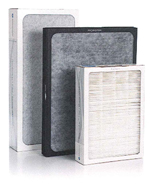 For any environment in which removing gaseous pollutants is a priority, Blueair recommends the optional GO SmokeStop filter. Blueair's optional GO SmokeStop filter adds more gas absorption capability and is recommended for removal of tobacco smoke and odors, and for environments like workshops or workplaces where chemical fumes and gases are present. It is recommended for use in rooms where heavy gaseous pollutants such as cigarette and cigar smoke or other VOC's are present.

The GO SmokeStop filter is a progressive carbon filter with a honeycomb-type structure that improves airflow and has hundreds of odor and gas-absorbing carbon pellets. The filter contains 2.0lbs of coconut shell activated carbon impregnated with a 70/30 blend of Potassium Hydroxide (KOH) and Potassium Iodide (KI). The carbon eliminates volatile organic compounds (VOC) as well as typical household odors.


Summary and Recommendation
To summarize, when selecting the Blueair model that will best meet your needs, you will want to consider two basic issues:
Room Capacity - The amount of space to be cleaned
Filter Type - Particle or GO SmokeStop Filters
Room Size Consideration
It is important to select an air purifier that can effectively handle the size of the room you wish to clean. The Blueair 403 and ECO 10 have been designed for small to medium-sized rooms. The Blueair 503 and can handle larger areas than the other models.

Note that using the Blueair 503 or 603 in a smaller area that the maximum it is rated for is a good thing. A larger-capacity model will clean the room more efficiently with more air exchanges per hour. In addition, the possibility for less required filter changes and the likelihood of even cleaner air may result.

Recommendation: Select the Blueair 503 or 603 for ANY size area, but the Blueair 403 or ECO 10 for small to medium rooms.


Particle Filter or GO SmokeStop Filter
Each Blueair model comes with the Blueair Particle filter, but can be upgraded to the GO SmokeStop filter. Both types of filters provide excellent removal of particulates such as dust, dander, pollen, and mold spores from the air, but only the GO SmokeStop has been configured to also remove odors and chemicals.

Recommendation: If you feel you have no need to remove odors or chemicals from your environment, then select the standard particle filter. However, if you want to remove odors from smoke, pets, chemicals, or typical household smells, add the Go SmokeStop filter.

We feel that the Go SmokeStop is a worthwhile upgrade since it addresses vapor molecules that are smaller than can be removed by the particle filter. Some of these molecules can be toxic or at least irritating. Those with asthma or other respiratory issues should definitely consider the GO SmokeStop upgrade.



Contact Information